Drew Mazurek, trumpet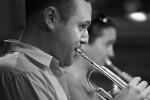 Photo by Marilyn Catasus In the Spring of 1999, while still an undergraduate at Yale University, Drew Mazurek became a founding member of Brass. Drew performed with Brass for 7 seasons, then left the group in 2006 to pursue graduate work in Electrical Engineering. In 2008, Drew returned to Brass as a full time member. Drew's personality and musicality are an integral part of the sound of Brass.
A native of North Haven, Drew has studied with Richard Green and Ken Tedeschi. He has performed extensively with groups at Yale and Stanford, including the Yale Concert Band, the Yale Precision Marching Band, and the Stanford Wind Ensemble. In addition, he has performed with the Connecticut Choral Society, the Wallingford Symphony Orchestra, and Orchestra New England. Drew has performed in 9 countries spanning 4 continents. He holds degrees from Yale (BS) and Stanford (MS).
When he's not playing trumpet, Drew is either flying airplanes, playing softball, or working at his New Haven-based company, Veoci.
Melissa Muñoz, trumpet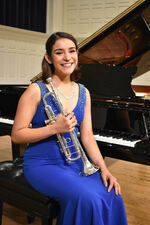 Melissa Muñoz is a dedicated trumpeter and educator based in New York City. She enjoys a career of freelancing, subbing on Broadway, and teaching in the New York Tri-State area. She has performed with The Dallas Winds, Paragon Ragtime Orchestra, The Metropolitan Opera, and Orchestra of St. Luke's. Melissa is an avid chamber musician and is currently a member of Heartbeat Trio, playing alongside Blair Hamrick on horn and Julie Dombroski on trombone. She competed in the 2020 Fischoff Chamber Music Competition with Elm Street Brass Quintet, where the group advanced to the semi-finals round and received the American Brass Quintet Prize.
Melissa earned her Bachelor of Music degree at The University of Texas at Austin and Master of Music degree at Yale School of Music, where she was awarded the John Swallow Brass Prize. She also studied at the Colburn School under the tutelage of Jim Wilt. Melissa was a fellow in the Cleveland Institute of Music's inaugural Future of Music Faculty Fellowship, a program designed to represent "a critical step forward in creating diversity within the music academy and beyond." Most recently, she joined The Collective as a writer, an online publication serving as a gathering place for visionary thinkers.
Melissa has a passion for education and loves aiding her students as they discover their own sound, flow, and musicianship. She has served as Adjunct Instructor of Brass at Cheshire Academy since 2019, maintained a private lesson studio since 2017, and joined The Browning School as trumpet faculty in 2023. She has also served as a musical mentor for Fortissima, an artistic and leadership development program at the Colburn School for high school age young women from underrepresented minorities in classical music. Melissa is a Bach/Conn-Selmer trumpet artist.
Emily Boyer, horn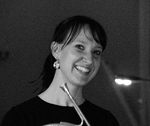 Photo by Mateusz Zechowski Emily Boyer, a member of Brass since 2019, strives for opportunities to cultivate relationships through music. She co-founded the horn and harp duo Apple Orange Pair in 2010 to grow the contemporary repertoire and connect audiences with this unexpected pairing.
As an orchestral musician, Emily has performed with New Haven, Greater Bridgeport, Eastern Connecticut, and Waterbury Symphony Orchestras. Emily is an instructor at Naugatuck Valley and Middlesex Community Colleges and Educational Center for the Arts (New Haven, CT), maintains private brass studios at The Foote School and Hopkins School (New Haven), and is an Arts Provider with Hartford Performs. Emily currently serves as Co-Director of Music at Christ Presbyterian Church (PCA) in New Haven. She is a graduate of Peabody Conservatory (BM) and Yale School of Music (MM).
Jennifer Griggs, trombone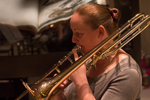 Photo by Marilyn Catasus Jennifer Griggs is an active freelance trombonist living in New York City. She performs in different musical settings with a variety of ensembles. Besides Brass, she is a member of Tromboteam! (whose debut album, featuring nine newly commissioned works, is scheduled for release in January 2014), Le Train Bleu, and the Patriot Brass Ensemble. Her work with the new music ensemble "Le Train Bleu" has led to performances at venues in New York such as Symphony Space, Le Poisson Rouge, Galapagos Art Space, Lar Lubovitch Dance Co, and DROM.
In addition, Jennifer has performed with the Waterbury Symphony, Wallingford Symphony, Orchestra New England, and Orchestra Modern. Before coming to the northeast, she was employed in the pit orchestra at the Cumberland County Playhouse in Tennessee. As an educator, Jennifer has served on the faculty at Naugatuck Valley Community College, Morse Summer Music Academy, and remains active in the Yale Music in Schools education outreach program. She has appeared as a guest artist and clinician at Southern Mississippi State University, University of Louisiana at Monroe, University of Ohio, University of Nebraska at Kearny, and many public schools. In 2010, as a member of the Yale Trombone Quartet, she traveled to Bogota, Colombia, where she was featured artist and clinician at the "100 Anos, 100 Trombones" festival.
Jennifer holds a degree in music education from Tennessee Technological University (BA) and a degree in trombone performance from the Yale School of Music (MM). Her teachers include Scott Hartman, Susan K. Smith, Joshua Hauser, and Kevin Chiarizzio.
Outside of her musical life, Jennifer is an avid horsewoman and is currently an instructor at Essex Equestrian Center in New Jersey, where she teaches riding, showing, and horsemanship to students of all ages.
Allison Lazur, tuba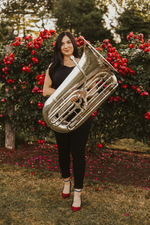 Allison Lazur enjoys an active freelance career that involves both performing and teaching. She enjoys exploring works that feature the tuba in various roles, most recently delving into solo compositions that are written for tuba + fixed media. She is a founding member of the traditional jazz group, French 75, established in 2016, and has also performed at local venues including Playhouse on Park and the Bushnell's Belding Theatre.
Allison is the principal tubist of the Hartford Independent Chamber Orchestra, an ensemble that performs new music throughout the state of Connecticut. In March 2015, she premiered a tuba concerto with the Hartford Independent Chamber Orchestra written by Charles Menoche at Central Connecticut State University.
She can also be heard as the tubist on the "Love Right" recording project. Allison was a member of the Zephyrus Project Orchestra in a performance of RiteNow: A Centennial Celebration of Igor Stravinsky's The Rite of Spring in New Haven, CT.
Allison is currently the instructor of tuba at Wesleyan University, Sacred Heart University, and the University of New Haven.
---
Junius Johnson, manager, horn emeritus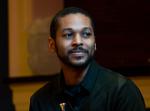 Photo by Marilyn Catasus Junius Johnson co-founded Brass in 1999. A native of Louisville, Kentucky and an avid performer, he is experienced in horn performance across nearly every major genre. He brings his extensive training in the humanities to the construction of Brass' innovative programming.
At Yale, Junius has performed with every major ensemble on campus, and has been a featured soloist twice each with the Yale Bach Society and the Saybrook College Orchestra. He appears on several CDs of local folk/rock band Mighty Purple (HMG Records), and on the soundtrack to the Hollywood feature film The Brothers Bloom (Rian Johnson, director). Junius is the former Executive Director of Orchestra New England, an emeritus member of the Archipelago Project and an honorary member of the Bermuda Regiment Band and the US Army Field Band. He has performed around the world on numerous international tours, and holds degrees from Oral Roberts University (BA) and Yale University (PhD).
He is currently the executive director of Junius Johnson Academics, through which he offers innovative classes for both children and adults that aim to marry the sense of wonder with intellectual rigor. He continues to be involved with Brass through concert planning, and returns to New Haven to perform as often as he can.