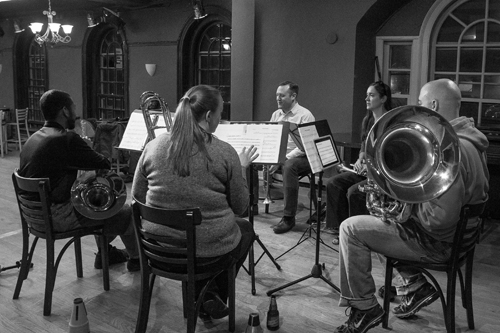 Brass has a wide-ranging library of music to make your event special. In addition to the music listed below, we are always adding to our library. If you don't see a piece below, we can often still provide it, given sufficient notice. Some extra charge may be involved.
Note: You can click on some of the songs below to get a preview of how they sound (popups required).
Baroque
Air on the G String (Bach)
Art of the Fugue (Bach)
Brandenburg Concerto Suite (Bach)
Fantasie (Bach)
Little Fugue in G Minor (Bach)
Praeludium und Fuge (Bach)
Sleepers Wake (Bach)
Toccata and Fugue (Bach)
Well Tempered Clavier (Bach)
Two Pieces (Brade)
Te Deum (Charpentier)
Canzona per Sonare #4 (Gabrielli)
Canzona Sol Sol La Sol (Gabrielli)
Awake the Trumpet's Lofty Sound (Handel)
Hallelujah Chorus (Handel)
Largo from Xerxes (Handel)
Overture to Berenice (Handel)
Since By Man Came Death (Handel)
The Trumpet Shall Sound (Handel)
Psalm 19 (Marcello)
L'Orfeo (Monteverdi)
Rondeau (Mouret)
Six Pieces (Pezel)
Sonata No. 22 Leipzig (Pezel)
Three Pieces (Pezel)
Trumpet Tune and Ayre (Purcell)
Battle Suite (from Galliard Battaglia)
Two Pieces (Schein)
The Four Seasons (Vivaldi)
Vivaldi Concerto in C for 2 tpts
William Boyce Suite
Rigaudon
Rameau Suite
Classical
Carmen Suite #1 (Bizet)
Brahms Eleven Choral Preludes
Choral und Fuge (Brahms)
Es Ist Ein Ros' Entsprungen (Brahms)
Motet and Fugue (Brahms)
O Gott Du Frommer Gott (Brahms)
Copland Portrait
Simple Gifts (Copland)
Girl with the Flaxen Hair (Debussy)
Fanfare to La Peri (Dukas)
Nimrod (Elgar)
Gypsy Rondo (Haydn)
Five Pieces (Holborne)
First Suite for Military Band in Eb (Holst)
Second Suite for Military Band in F (Holst)
Four Songs (Ives)
Pictures at an Exhibition (Mussourgsky)
Ave Verum Corpus (Mozart)
Marriage of Figaro (Mozart)
Mozart on Parade
Non Piu Andrai (Mozart)
O Isis and Osiris (Mozart)
Queen of the Night's Vengeance Aria (Mozart)
Turkish Rondo (Mozart)
Che Gelida Manina (Puccini)
Musetta's Waltz (Puccini)
Procession of Nobles (Rimsky-Korsakov)
Largo al Factotum (Rossini)
Moments Musicaux (Schubert)
Also Sprach Zarathustra (Strauss)
Street Scene (from Romeo and Juliet)
Dance of the Knights (form Romeo and Juliet)
Poet & Peasant Overture (von Suppe)
Bolero (from Sicilian Vespers)
La Donna e Mobile (Verdi)
Bridal Chorus (Wagner)
Armenian Scenes
Celtic Dance
Changing Moods
Drinking Song
Folk Song Fantasy
For Then and Now
Olympic Fanfare (Tull)
Sabre Dance (Khatchaturian)
Serenade (Romberg)
Three Sketches on a Southern Hymn Tune
Threepenny Opera Suite (Weil)
Virga Jesse (Bruckner)
William Tell (Rossini)
Renaissance/Early
Elizabethan Dance Suite
If Ye Love Me, Keep My Commandments (Tallis)
Motet and Royal Fanfare
Purcell Suite
Three Elizabethan Madrigals
Two Ayres
Two Pieces
Pop/Other
Blackbird (Beatles)
Come Together (Beatles)
Eleanor Rigby (Beatles)
I Am the Walrus (Beatles)
I Want to Hold Your Hand (Beatles)
Michelle (Beatles)
Penny Lane (Beatles)
She's Leaving Home (Beatles)
With a Little Help From My Friends (Beatles)
Yesterday (Beatles)
You Never Give Me Your Money (Beatles)
America (from West Side Story)
I Feel Pretty (from West Side Story)
Maria(from West Side Story)
One Hand, One Heart (from West Side Story)
Overture (from West Side Story)
Something's Coming (from West Side Story)
Somewhere (from West Side Story)
Tonight (from West Side Story)
American in Paris
Barnum & Bailey's Favorite March
Can-Can
Frere Jacques
Hornsmoke
K-K-K-Katy
Killer Tango
La Cumparsita
O Canada
O Danny Boy
Ol' Man River (Kern)
Rhode Island is Famous for You
Sheik of Araby
Sousa Collection
Stars and Stripes Forever (Sousa)
Stevie Wonder
That Old Black Magic
Virgen de la Macarena
Washington Post March (Sousa)
The Merry Widow (Lehar)
Jazz/Dixieland
A Woman is a Sometime Thing (from Porgy and Bess)
Ain't Necessarily So (from Porgy and Bess)Bess You Is My Woman Now (from Porgy and Bess)
I Loves You Porgy (from Porgy and Bess)
Overture and Summertime (from Porgy and Bess)
12th St. Rag
Take the A Train (Ellington)
Ain't Misbehavin' (Waller)
Anything Goes (Porter)
Ballin' the Jack
Beale St. Blues (Handy)
Bill Bailey
C'est Magnifique (Porter)
Dead Man Blues
Entertainer (Joplin)
Farewell Rag
Foggy Day (Gershwin)
Glenn Miller
Glory Look Away
Golliwogs Cakewalk (Debussy)
Handful of Keys (Waller)
Scott Joplin Rags
Just a Closer Walk
King Bolden on Parade
Maple Leaf Rag (Joplin)
My Heart Will Always Lead Me Back to You
Nearer My God to Thee
Peter Gunn
Saints Hallelujah
St. Louis Blues
St. Thomas
Traffic
Tuba Tiger Rag
Wabash Blues
Musicals/Opera
Carmen Suite No. 1 (Bizet)
West Side Story (Bernstein)
Porgy and Bess Suite (Gershwin)
Merry Widow (Lehar)
Marriage of Figaro Overture (Mozart)
Mozart on Parade
Non Piu Andrai (Mozart)
O Isis and Osiris (Mozart)
Queen of the Night's Vengeance Aria (Der Hoelle Rache) (Mozart)
Che Gelida Manina (Puccini)
Musetta's Waltz (Puccini)
Largo al Factotum (Rossini)
Hornsmoke (Schickele)La Donna e Mobile (Verdi)
Threepenny Opera Suite (Weil)
Polka
Beim Pfarrwirt
Fuchsgrabenpolka
Heidrunpolka
Rosamunde
Pipi Langstrumpf
Nagelschmiedpolka
D'lustige Schwoagerin
Der lustige Bua
Trompetenpolka
Tritsch-Tratsch Polka
Christmas/Holiday
12 Days of Xmas
A La Nanita Nana
Angels We Have Heard on High
Bring a Torch Jeanette, Isabella
Carol of the Bells
Carol of the Drum
Ceremonial for Christmas Brass
Charlie Brown Christmas
Christmas Day (Solid Brass)
Christmas Music (Bach)
Christmas Song
Comfort Comfort Ye My People
Coventry Carol
Ding Dong Merrily on High
Do You Hear What I Hear
Dreydel: Theme and Variations
Feliz Navidad
Gaudete Christus Est Natus
Go Tell It On the Mountain
God Rest Ye Merry Gentlemen
Good Christian Men Rejoice
Greensleeves
Have Yourself a Merry Little Christmas
Here We Come A-Wassailing
Holly and the Ivy
Huron Carol
I Saw Three Ships
In the Bleak Midwinter
Jingle Bells
Little Drummer Boy
Little Suite
Lo How a Rose E'er Blooming
Maoz Tzur
March of the Toys (from Babes in Toyland)
Matin Responsory (Palestrina)
Mr. Grinch
O Come Immanuel
O Holy Night
Once in Royal David's City
O Tannenbaum
Salvation is Created
Sevivon
Silent Night
Silver Bells
Sleigh Ride
Stille Nacht
Sussex Mummers' Carol
The First Noel
The Three Wise Men (Harbison)
This Christmas
'Twas the Brass Before Christmas
Two Choral Preludes for Advent (Harbison)
Two French Carols
We Three Kings
We Wish You a Merry Christmas
White Christmas
Sacred
Blest Mary Walks Amid the Thorn
Christus Factus Est
Comfort, Comfort Ye Me People
Let All Mortal Flesh Keep Silent
Make Me a Channel of Your Peace
Of the Father's Love Begotten
O Sacred Head
(All 4 part hymns available upon request)
Cartoon/Video Game/TV/Movie
80s Vehicular Medley
Airwolf
A-Team
Ghostbusters
I Love Lucy
James Bond
John Williams Medley
Legend of Zelda
Knight Rider
Pink Panther
Mission Impossible Theme
Muppet Show
Raiders of the Lost Ark March
Simpsons
Spy Hunter
Superman
Super Mario Brass
Tigger's Theme
Winnie the Pooh!