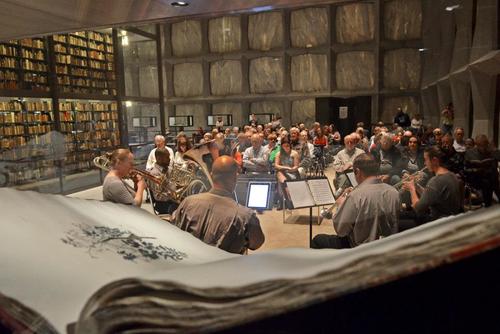 Photo courtesy of Michael Marsland
The Beinecke Library and Brass have an ongoing collaboration that is known as the Marble and Brass series. This series is the longest continually running series in the Beinecke's robust lineup of musical offerings. The idea is simple: the rich architectural beauty of the Beinecke Library has, as a side effect, created a premier space for musical performance that is especially well-suited to the rich, resonant timbre of brass instruments. The Beinecke mezzanine receives the depth of sound that brass instruments produce and creates a 360 degree immersion into the tonal space.
Brass first revived the previously dormant concert series in the Spring of 2000. Since then Marble and Brass has continually increased in popularity. Now the series thrills over 300 people at the annual holiday concert, packing every corner of the Beinecke mezzanine.
---
Upcoming Concerts
Tuesday, December 12, 2023, 5:15 pm: Sounds of the Season
Brass returns in person to Beinecke Library for our beloved concert of holiday classics. Join us this December!
Beinecke Rare Book & Manuscript Library, 121 Wall Street, New Haven. Free admission.
---
Past Concerts
The concerts of the Marble and Brass series have varied widely in their theme and musical genre. Brass strives to continue to bring innovative and engaging musical programs to the series each year. Below is a list of the concerts in the series. Click on a concert to view the program for that concert.
2015: No concerts, Beinecke closed for renovations
2008: No concerts, Beinecke closed for renovations

December 19, 2006: The Marble and the Ivy

December 15, 2003: CD Release Concert

April 26, 2000: West Side Story